Get CourtFact FREE for 3 Months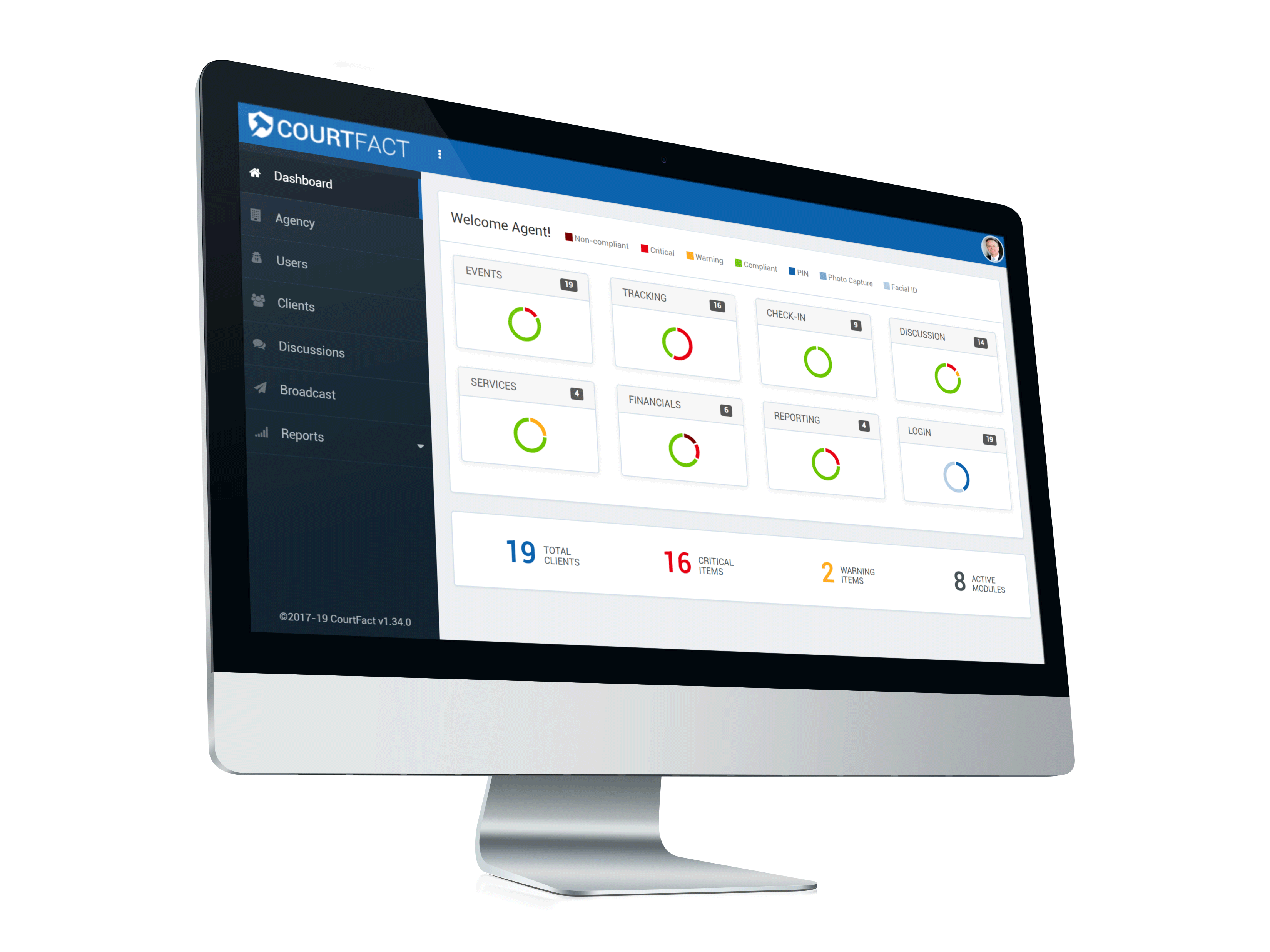 Customizable, Flexible, On-Demand Client Management
CourtFact's web-based software platform specifically designed for courts and agencies takes on the challenges of managing the participant as an individual instead of as a case number. Separated into individual features called modules, the simple-to-use interface can be customized with specific parameters unique to each agency that empowers each case manager to control many details all the way down to the participant level.
CourtFact has NINE feature modules
All accessible during the FREE offer!
LOGIN
---
Three options for client authentication using a unique client ID and PIN, a client photo and PIN, or our proprietary facial ID.
DISCUSSIONS
---
Make communication with clients easier than ever before using secure two-way messaging that archives conversations for later reporting.
EVENTS
---
Agency-managed calendar to help clients stay on track with important obligations like recovery meetings, counseling, and court appearances.
BROADCAST
---
Get important information out to multiple clients at one time using push, text and email; reaching even clients that do not have a smartphone.
TRACKING
---
Leave sign-in sheets and attendance lists in the past by allowing the client to verify their own presence at important Events.
REPORTING
---
Eliminate manual forms and reporting calls by collecting information remotely, asking follow up questions, and prioritizing responses.
CHECK-IN
---
Have clients periodically check-in with the court, leave a note, and verify their location in a point in time, or for a brief period after check-in.
FINANCIALS
---
Track each client's financial obligations and other cost requirements by reminding clients of due dates and recording payments and updates.
SCREENING
---
Take complete control of your substance testing program, whether you test in-house or outsource to one or more private collection offices.
Flexible scheduling featuring Group Schedules, individual client fixed, random, and one-off schedules, and two randomization algorithms

More check-in options than any other system through a smartphone application, client information portal, website, or phone

Instant reporting available from instant screening devices administered in the office or from an outside collection site

Secure client prescription database to track medications and protocols for clients to determine test interactions

Completely integration with Abbott's Redwood ToxAccess to generate chains of custody, send samples, and receive lab results
More Ways to Communicate Than Ever Before
Notifications & Reminders
With Push Notifications, SMS Text Messages and Emails sent to any address, the ability to reach your participants with multiple delivery methods for important messages, notifications and reminders eliminates excuses and increases accountability. Agencies can even deliver important information to participants not using the smartphone application.
Mobile App & Portal
Clients can access information on-the-go with the FREE CourtFact Client Mobile smartphone application. Instance communication from work, school, home or anywhere the client goes with their smartphone. No smartphone? No problem! With the Client Portal web-based interface, clients still have access to all the information they need for an computer.
"Total Court Services
is the real deal

for everywhere from customer service down to their technology deployments.
Marshall County Community Corrections
What Makes Us Truly Different.
Total Court Services actively monitors more than 6,000 clients on a daily basis using several technologies and testing methods for compliance with court orders, pretrial/bond release, or for license reinstatement programs. Every day we strive to make our individual clients successful and help our court and agency partners maintain and exceed their high standards.