The most flexible option in breath alcohol testing.
The world's first handheld, wireless, portable breath alcohol device with automated facial recognition and GPS with every single test. For your lower-risk offenders or those who have earned less intensive testing and monitoring.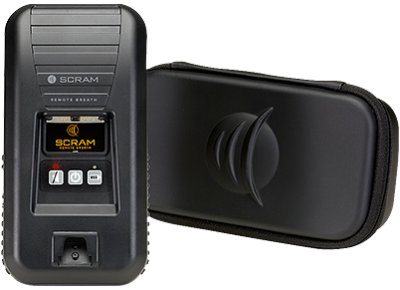 SCRAM Remote Breath Alcohol Tester With GPS Location Monitoring
Automated Facial Intelligence™
One-piece, handheld, cellular
Proven fuel cell technology
GPS location with every test
Client text message reminders and notifications
Rugged, built for corrections
Integrates with SCRAMnet
Random, scheduled, and on-demand testing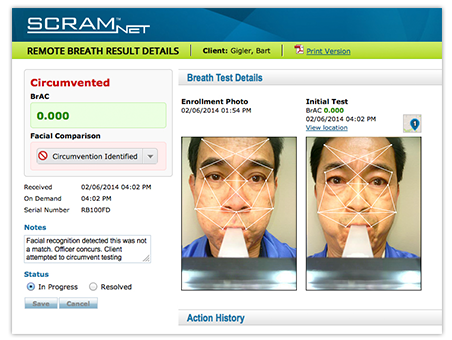 Reduce staff time to confirm identities.
Automated Facial Intelligence
The first and only automated, intelligent bio confirmation system to be used in alcohol testing
Government security grade FACIAL RECOGNITION software—not just photos
Automated matching—reduces manual review of photos by 90–95%
High-resolution images—clearly defines the 5-10% you do review
AFI means FTE Officer to Offender Ratios, along with liability, will be drastically reduced
More supervision data, especially with missed tests.
GPS With Every Test Type
SCRAM Remote Breath stores test results and a GPS location with taken and missed tests—a feature that's proving valuable for making sense out of the most frequent alert type in remote breath testing: the missed test.
Stores test results when out of cell coverage.
STORE & FORWARD
Most portable alcohol breath devices don't record test results without cell coverage. But mobile alcohol testing should be just that: mobile. As the only device with STORE & FORWARD, SCRAM Remote Breath can store up to 48,000 test results when out of cell range and forward them automatically when service is reacquired. So no matter where clients are, Remote Breath ensures you receive ALL test data.
Flexible testing options for both agencies and clients.
On-Board Test Schedules and Client Testing
Remote Breath stores test schedules in the unit and prompts clients when it's time to test, whether or not they are in cell range—making it the only true one-piece unit on the market. As an extra reminder, agencies can also set up reminders through SCRAMnet to send a text to a client's phone.