Provides Accountability and Encourages Compliance.
The SCRAM Continuous Alcohol Monitoring® system is the world's most widely used and trusted 24/7 transdermal alcohol testing system. For high-risk, hardcore DUI and alcohol offenders.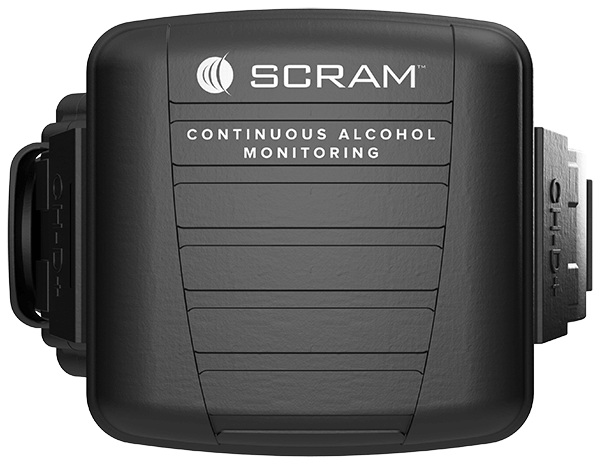 SCRAM CAM Provides Accountability and Encourages Compliance
Standalone alcohol monitoring or CAM with home curfew monitoring at the flip of a switch
Eliminates testing gaps—no ability to miss a test or drink around testing schedules
Goes where the client goes—no transportation to a testing center
Studies show CAM is most effective for offenders assessed with alcohol dependence or addiction
Works well in conjunction with treatment to enforce compliance and better identify when intervention may be needed A CAM Monitored day is a day in which a client was monitored using Continuous Alcohol Monitoring. CAM is a device worn on the body that continuously samples vapor from the wearer to determine if alcohol was consumed. A Sober Day is a measurable 24-hour period of time during which no violation—alcohol consumption or device tampering—has occurred. Of the CAM days monitored, this is the percentage of days that were compliant. A CAM Alcohol Test is a reading that has been taken from a client wearing a physical Continuous Alcohol Monitoring device. A CAM test will occur dozens of times per day unlike a breath test that is a single reading.
Features, Functions & Support
"Your agency is far and away
the most professional and thorough tether company I have ever worked with.

Keep up the good work"
Michigan Circuit Court Probation Officer
What Makes Us Truly Different.
Total Court Services actively monitors more than 10,000 clients on a daily basis using several technologies and testing methods for compliance with court orders, pretrial/bond release, or for license reinstatement programs. Every day we strive to make our individual clients successful and help our court and agency partners maintain and exceed their high standards.