PharmChek Drugs of Abuse Patch
Eliminate Windows of Missed Detections That Plague Traditional Testing
The PharmChek® Drugs of Abuse Sweat Patch by PharmChem allows continual monitoring of your drug dependent clients. Due to the solid construction of the patch, tampering is visibly evident.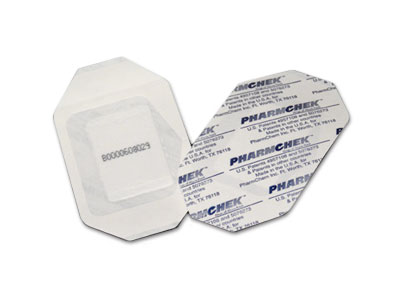 Included in the Drug Patch Kit
The drug patch consists of a continuous wear patch that constantly collects sweat from the wearer over the entire period of of application. During this time, any substances used by the wearer can be passed through the skin in the various forms of sweat. Whether TCS helps the court or agency administer the drug patch program, or TCS performs all activities as a full-service solution, the drug patch kit consists of:
Drug patch with tamper evident adhesive application
Application overlay (not required but used on some clients)
Alcohol wipes for cleaning an preparing the application area
Single-use tweezers for removal of patch without contamination
Specimen and transport bags for final sample shipping
Chain of Custody forms for each patch applied
| Lab Panel | Substances Tested |
| --- | --- |
| Standard Panel | AMP, COC, mAMP, OPI, PCP, THC |
| Expanded Panel | Standard + hydrocodone, hydromorphone, oxycodone, & Oxymorphone |
| Fentanyl Add-on | Fentanyl + Nor Fentanyl |
Features of the PharmChek Drugs of Abuse Patch
Wearability
Tamper Evident with visual inspection
Hygienic alternative to urine & oral testing
Variable wear times of 7-10 days (up to 14 days for some)
Continuous monitoring; 24 hours of day, 7 days a week
Effectiveness
Eliminates windows of vulnerability between tests
Acts as an active deterrent to substance misuse
Wearer cannot dilute the sample being collected
Retains drugs used any time during wear period
Testing Integrity
Tests for both the drug metabolite & parent drug
Standard  panel with six different drugs
Expanded panel with four additional drugs
Add-on panel testing specifically for fentanyl
Software Solutions
Track applications, removals, & scheduling in CourtFact
Send clients reminders of appointments for new patches
Schedule fixed or random remote visual inspections
Directly import testing laboratory results and reports
"…the PharmChem sweat patch drug testing device is
a reliable scientific method

for testing for the presence of controlled substances…
Excerpt from decision of U.S. v. Stumpf
What Makes Us Truly Different.
Total Court Services actively monitors more than 10,000 clients on a daily basis using several technologies and testing methods for compliance with court orders, pretrial/bond release, or for license reinstatement programs. Every day we strive to make our individual clients successful and help our court and agency partners maintain and exceed their high standards.