The most flexible option in breath alcohol testing.
SCRAM Remote Breath provides handheld, portable breath alcohol monitoring with options for scheduled, random, on-demand, and client-initiated testing for low-risk offenders or those who have earned less intensive testing and monitoring. Government-grade facial verification software and GPS locations with every test—even if it is missed—SCRAM Remote Breath gives flexibility to courts and agencies while making participants accountable for their testing.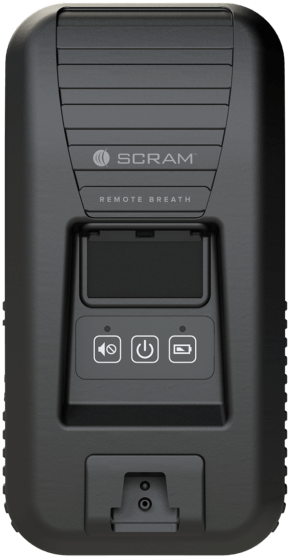 SCRAM Remote Breath Alcohol Tester With GPS Location Monitoring
Automated Facial Intelligence™
One-piece, handheld, cellular
Proven fuel cell technology
GPS location with every test
Client text message reminders and notifications
Rugged, built for corrections
Integrates with SCRAMnet
Random, scheduled, and on-demand testing A Remote Breath Monitored day is a day in which a client was monitored using a Remote Breath device. SCRAM RB is a device carried by the client that tests for alcohol on a schedule. The Compliance Percent is the percentage of tests taken in which there was no violation. Failed, missed, and circumvented tests are all non-compliant. A Remote Breath test is a test that was successfully submitted and was scheduled or initiated by the participant. Each test is counted regardless of compliance of the test.
Features, Functions & Support
"Your agency is far and away
the most professional and thorough tether company I have ever worked with.

Keep up the good work"
Michigan Circuit Court Probation Officer
What Makes Us Truly Different.
Total Court Services actively monitors more than 10,000 clients on a daily basis using several technologies and testing methods for compliance with court orders, pretrial/bond release, or for license reinstatement programs. Every day we strive to make our individual clients successful and help our court and agency partners maintain and exceed their high standards.