Superior location monitoring with SCRAM Systems quality.
We are proud to offer GPS monitoring technology that delivers the same exceptional product quality, software, customer service, and technical support that our customers have come to expect.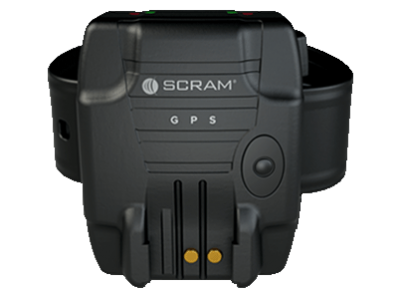 A Better GPS Monitoring Device
Introducing the next generation of our SCRAM GPS technology. We've combined superior location accuracy, an industry-leading strap design, the industry's best battery life, and user-friendly software tools that help officers quickly identify and address issues in their caseload.
A fully integrated part of the SCRAM Systems suite of alcohol and location monitoring solutions, consolidated on a single platform
Utilizes the 3G cellular network
Goes where the client goes—no transportation to a testing center
SCRAM GPS Analytics™ and Google Street View mapping simplify tracking and put your clients' movements in context
Revolutionary tamper technology substantially reduces false alerts and provides nearly instant notifications
Eliminating "needle in a haystack" monitoring
SCRAM GPS Analytics
The average GPS client will generate nearly 1,500 GPS location points each and every day—creating a mountain of data for officers to sift through to identify issues that they need to address.
SCRAM GPS Analytics is designed to help officers spend less time sorting through data so that they can focus on the clients and tasks that truly need attention. Our unique software tools transform up to a month of GPS points into easy-to-view information, allowing officers to quickly make sense of offender movements and spot trends or problems.
Open Strap, Closed Strap. There is Nothing in Between
Leading Tamper Technology
An OPEN alert means an OPEN strap. No waiting, no guessing, no reason to doubt.
The strap design on the SCRAM GPS bracelet is different from other products on the market. It essentially eliminates intermittent strap disruptions that cause false alerts in other GPS technologies. And with SCRAM GPS, the detection of removal is nearly instantaneous, eliminating grace periods, wait times, and the confusion between "alerts" and "events."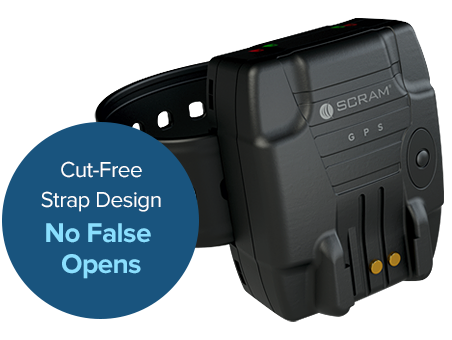 Quickly locate clients with the world's most powerful mapping tool
Google Maps and Pursuit Mode
With Google Maps and Google Info windows built into the SCRAM GPS monitoring software, officers can quickly identify a client's exact location and put client movements into context. And the system's on-demand Pursuit Mode automatically engages a near real-time transmission rate to aid in client apprehension.
A 50% reduction in low battery alerts
The Industry's Best Battery Life
For GPS caseloads, the most common alert is also one of the most concerning: low battery alerts. When low batteries turn into dead batteries, offenders go unmonitored in the community.
That's why SCRAM Systems designed this generation of SCRAM GPS with the longest lasting battery in the industry. Even on an aggressive 1 x 10 tracking plan, SCRAM GPS provides more than 2 full days of battery life—reducing low battery alerts by up to 50% compared to other GPS devices on the market.